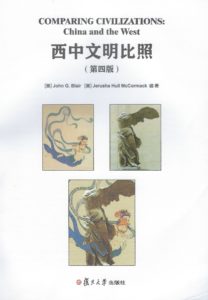 Comparing Civilizations: China and the West [CCCW], Fourth edition, 2018, ISBN 978-7-309-13810-8
Professors Blair and McCormack have co-authored this sourcebook to introduce Western Civilization to Chinese readers and Chinese Civiilization to Western readers. It presumes that most readers have little informed sense of their own civilizational origins, even when they turn toward studying others. This book responds to a felt educational need in both China and the West. It provides a unique one-stop comparative-culture approach to China and the West.
This fourth edition is organized in two-week segments called Encounters. Each Encounter contains two parts, traditional and modern, with indicative readings from each civilization. These main readings total 550 pages in print.
Encounter One: LEARNING
Encounter Two: HUMANS IN FAMILIES
Encounter Three: HUMANS AND AUTHORITY
Encounter Four: HUMANS AND THEIR SURROUNDINGS
Encounter Five: DEFINING HUMANS: Bodies and Selves
Encounter Six: VALUES AND WORLDVIEWS
Overview: IMPLICATIONS FOR OUR TIME: Challenges to All io the Above in a Time of Climate Crisis
The CD-ROM of 1680 pages in PDF format is designed to be read on-screen with an all-word search function and many clickable links tying related passages to each other. The main readings appear here with images in color plus an additional 1000 pages of supporting materials.
It includes essays on method, sample comparison essays, nuggets for further comparative research and introductions to important cultural formations such as Judeo-Christianity, modern Western science, or Daoism. Many alternative readings also appear here, arranged according to historical periods in each civilization.
Working Concepts for Comparative Culture Studies
Quick Comparisons: China and the West
Extended Comparisons on Language and Thinking: Chinese and English
Targeted Comparisons: Sample Essays
Nuggets for Further Comparative Research
Enduring Concepts in Western Life
Prominent Cultural Legacies, Western & Chinese (texts from pre-history to today's over-riding common concern for the environment, arranged by historcal periods.
World-scale responses to environmental threats from the United Nations and China
Essential Readings
The readings excerpt major authors, whom students know largely by hearsay, edited to facilitate comparing these two civilizations. Unconventionally, the organization is not chronological but topical. This structure results from the insistence of Chinese colleagues that they wanted a "genuinely comparative course." Thus the sourcebook itself is a product of cross-cultural negotiation. The main readings take up 550 pages.
In the present fourth edition, designed as a one-semester course, the readings proceed through six topical modules that move from relatively concrete comparisons to more abstract concerns. Each of these comparative modules is divided into two segments: "traditional" and "modern." Modernity is not identified with a specific time period but to a process of calling traditions into question. The concluding OVERVIEW shows how the current ecololigcal crisis invits fresh perspectives on our world.